Description
Note* – This template requires Ableton Live 10 or higher to function!
In an effort to bring the sample packs to good use while helping new emerging artists, I decided to ask one of my "graduate students" (note: a client who did multiple classes with me and worked actively later on) to use some of the sounds and transform it in a finished song.
This template shows you how you can use samples in a techno song and you can also see how FX can be used to go far off in the transformation of the sounds included in the Winter Pack sample pack.
About this template
Our Ableton templates come with samples and presets that you are free to use for your own commercial projects. There are many ways to use this template, but it's a learning tool as well as a template to get you started. Many people don't know how to get started with Ableton, but having a pre-made song can be extremely liberating as you have some propositions already on hand. We've built this template so it's simple and easy to understand.
This template could provide you with a starting point for your next big project, while allowing you to learn how to build a well-arranged, DJ-friendly club banger track! Change what you need and export the results to see how it can be applied to you own music.
Using technology to realize our creative dreams becomes much easier when using a template by built someone who has experience.
Includedin this template:
Full song made by Jos under the supervision of Pheek
Samples from the Winter Pack ready to be used.
Ableton Live effects you can see how they were used.
Technical Specifications & Requirements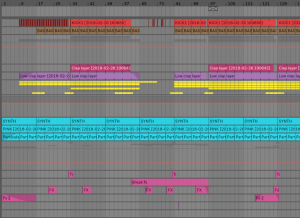 DAW: Ableton Live 10
PC and Mac compatible
DAW INSTRUMENTS: Simpler/ Sampler/ Instrument Rack
AUDIO TRACKS: 13
RETURN (SEND) TRACKS: 3
BPM: 122
DOWNLOAD SIZE: 50.0 MB
All files are royalty free
How to install:
Download the file ALP.
Double-click on it to install.
You'll be prompted where to put files.
You may then open the project.
Feel free to change the samples as you wish!