There's no doubt that a kick is an important part of electronic music, and in the last few years, it seems like more and more people are creating kick drums from scratch—analog or digital—with lots of depth. The difference between 90s production and modern production is the increased quality of sound systems around the world. I've heard that Funktion One sound systems are appearing more and more at festivals and in clubs. I myself have had to adjust my mastering approach to maximize the sound precision on these higher quality systems. In the end, the results are great for everyone. However, one thing I've noticed is how 90s music sounds a bit less warm and less open on these newer systems, which isn't a big deal, but we're missing out a bit on quality here, as this music is from a different era.
That said, really well designed kicks are so addictive on a nice setup that a kick alone can keep a crowd happy for a while…I'm exaggerating a bit but this isn't totally false either.
Do you need to buy a drum machine, synthesizer, or something fancy to make beautiful kicks?
Yes and no. There's something exciting about having gear, but gear can also be a trap. You'll use it for a while, but eventually you'll find that a lot of hardware always produces the same type of sound(s). Do you want want the same kick in 99% of your productions? Personally, I don't—I want variation. This is one of the reasons why I see people buying and selling gear over and over, looking for something they'll never really find. I like to have a hybrid setup where I get the best of both hardware and software; but trust me, I get a lot from software alone.
I'm a firm believer that one can do a lot with a little. There are a wide variety of cheap options; you can invest a tiny bit without going out to buy expensive machines.
My main kick sounds come from a few machines—I'd advise you to try to find out which machines make kicks you love. I've always loved the TR-808 by Roland, which is a classic, but I also love what Jomox does, as well as the Tanzbar (MFB). Once you learn about a few machines you like, the easiest approach is to find some high-quality samples of them; there are many options and sample packs online.
Creating a kick drum from scratch
If you Google "TR-808 free samples" for example, you'll find websites like this one and this one sharing samples for free. Search yourself and you'll find some pretty solid 808 kicks. I know this sounds silly, but samples are the fastest way to get things rolling. In a previous post I explained that great kicks are often layered. The best way to build great kicks using a simple setup is to start with a base of high quality samples. They need to be in 24b minimum, not compressed, but at -3dB.
When it comes to making an analog sounding kick "in-the-box" (no hardware), I'd say you should try following these steps:
Start with the low end made by an oscillator. In this case, you can use Ableton's Operator; you can use the sine wave or use the user section it to color things a little bit with harmonics
Layer a quality sample over it. I'd high pass samples to let the purity of the oscillator take over the low end. It's also important to align the phasing to get a punchier sound.
Use a transient from a modular sound recording. Snip out a transient or small slice of an audio recording to layer on your kick (I'll discuss this again later and provide some free downloads!).
Compress the whole thing with an analog modeled compressor to glue everything together. In this case, we can use the Glue Compressor from Ableton.
Add saturation on the sound to provide some finishing warmth. You can use Ableton's drive, but I've never really been a big fan of it. It'll do the job though if you're on a budget.
The best way to work with samples like this is to use the Ableton (or whatever DAW you use) drum rack so you can take advantage of the sampler's modulation system and envelopes.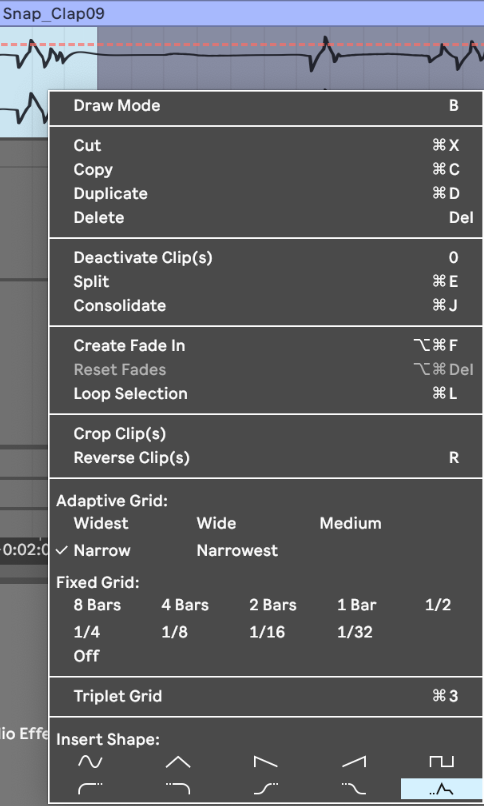 In Ableton Live 10.1, one feature I really like is the suggested/preset envelopes you can use on any sample. These settings come handy when modeling percussive sounds out of any samples you want. I love to create textures and then slice them quickly using this feature. Returning to the transient recording approach I mentioned previously—this type of slicing is particularly practical when I grab long recordings from my modular synth; there are tiny sounds I can turn into a snare or hat. Like I said, combining the best of all of these sounds will result in a full range kick.
Download sample transients recorded Pheek:
[download id="39268″]
If you want to invest, below are some interesting kick plugins I'd recommend:
Raw Kick by Rob Papen. Anything by Papen always is quality and you can't go wrong. Raw Kick is a no-brainer, it will create something ranging from very clean kicks to dirty, badass ones.
Big Kick. As the name states, this plugin creates "big kicks" and doesn't disappoint. Even the presets—once tweaked a bit—are pretty impressive and ready to use.
Sasquatch. Another solid kick maker that can make a room shake pretty heavily.
https://audioservices.studio/wp-content/uploads/2019/06/david-martin-1186876-unsplash.jpg
1365
2048
pheek
https://audioservices.studio/wp-content/uploads/2022/07/logo-menu.jpg
pheek
2019-06-17 16:09:48
2019-06-17 16:09:52
Creating a kick drum from scratch with an analog feel