In the world of music production, the concept of "beginner's luck" is something that many people aren't familiar with. It's not just about chance or serendipity; it's about the uninhibited creativity that arises when a newcomer, unburdened by preconceived notions, fearlessly dives into the world of music creation. I've always seen it as a proof that sometimes, it's not about making something to perfection, but more about spontaneity. The more you know, they more you get stuck in your mind, trying to control all the little details you know about, which then will kill the initial idea. It's very common that I have people contacting me for help because they ruined an initial lovely idea, by trying to make it "better."
As I said in previous post, people remember ideas, not technical perfection. Also, technically perfect songs don't always age well as they can easily sound clinical, cold, soulless.
I find that people that have less technical knowledge and who focus on one idea, often pull out a simple song that actually works. I've seen people come out of nowhere, make a song that works without really knowing what they do and then for years, try to learn everything they can to sound pro but then they sometimes lose touch with this magical spark. Having the beginner's mind is a practice that is approached in Mindfulness Meditation. I noticed it is an approach that serves people who struggle with jadedness and lacking inspiration.
In this article, we explore the significance of cultivating and maintaining the beginner's mind in music production, drawing some inspiration from the mindfulness approach advocated by Jon Kabat-Zinn.
Beginner's Luck in Music Production
People naturally want to listen to new music and sometimes, also, want to relate to music they know. But there is definitely a number of people who want to learn about the next big thing. Therefore, new comers are caught into this strange zone that it's difficult for them to emerge while others in the same position as them, will stand out. Nevertheless, when you're new to music, you are in luck for obvious reasons: everything about music is new and might sound fascinating. This state of mind is idea for creation as you're not clouded with judgemental views on certain sounds because you've been told that some aren't good enough for a specific genre.
Here's some points and strengths:
1. Uninhibited Creativity: When beginners enter the realm of music production, they are guided primarily by their passion and intuition. Lacking a deep understanding of complex techniques, they rely on their raw talent and instinct to craft their music. This approach often results in unconventional, fresh, and innovative tracks that captivate audiences. This is something that personally I'm always interested in new people's music because of their use of basic techniques, used sometimes wrongly, that turns out nicely. In the art world of painting, there's a similar equivalent called "Naive Art", where the artist does some portrait in a unusual way. I also noticed that Midjourney, who is a AI based art generator, would be similar as the early version struggled to make hands, resulting in very bizarre but yet mind boggling results.
2. Fearless Experimentation: Novices aren't held back by the fear of failure or the constraints of established norms. They explore various sounds, genres, and techniques without the burden of expectation. This bold experimentation can lead to accidental discoveries and the creation of music that defies categorization. Sometimes I noticed that new music makers who have no DJ experience will create tracks with very strange arrangements not knowing they might DJs to rage when they'll try to mix the music but this is also part of a certain charm.
3. Authentic Expression: Beginners often create music as a means of personal expression rather than aiming for commercial success. This authenticity resonates with listeners, who are drawn to the genuine emotions and stories embedded in the music. The more someone makes music for a long time, the more they might be tempted to fall into routines, habits or conform to a genre's aesthetics so they may "remain relevant."
Recently someone on Facebook shared this remark: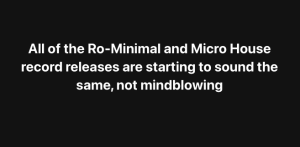 To which I explained:

Signs of a Shift in Beginner's Mind
Can we pinpoint the moment someone lose his Beginner's mind?
Yes and no. It's definitely not a linear process nor something permanently lost. But when a client comes for a consultation, I have a "BM meter" that I imagine and will try to spot the flags that will point towards a negative state.
There will be signs of the effect leaving you based on a few points. As you see it leave, there will be some issues appearing.
1. The Allure of Perfection:
As fledgling artists experience success, there's a tendency to chase perfection. The definition of success is very different from one person to another which makes it a bit tricky. But whenever there's a fixation or high concern over technical details, something tells me that there's a desire to be impeccable, before sounding authentic. They might start obsessing over technicalities (ex. searching endlessly for a specific sample, adjusting levels by 0.5dB, have decision fatigue over arrangements, etc), overproduction, and conformity to industry standards. In doing so, they risk losing the distinctive essence that made their initial creations so appealing.
Symptom 1: The technical part takes over the artistic side, both in importance and in time invested.
TIP: Spend more time in being spontaneous, record ideas in real time, limit the number of iterations a song will have or limit the time spent on a specific song in a day.
2. Overthinking and Self-Doubt:
With experience comes the inclination to overthink. Artists may become overly critical of their work, stifling their creative flow with self-doubt and self-imposed limitations. This self-consciousness hampers their ability to tap into the natural creativity that characterized their early work.
Symptom 2: Worries take over the excitement. Most of the thought process is focused on the listener's experience instead of what the song is about. Imagine you're in a conversation and you're more concerned on how the listener hears you than what you want to say, then there are good chances you'll make no sense.
TIP: Focus on what the song is about and putting it to term.
3. Creative Stagnation:
Clinging to a tried-and-true formula can lead to creative stagnation. Repeating the same patterns and techniques, even if successful in the past, can lead to a lack of innovation and artistic growth.
Symptom 3: All your songs are sounding the same. They all end up sounding like a different version of a previous (successful) song.
TIP: Change your reference songs, explore new music out of your comfort zone.
Embracing the Beginner's Mind with Mindfulness
One thing that is important to understand about beginner's luck relates that people are naturally attracted to novelty. Or at least, many people are. I remember when I started to make music and played live, I was offered so many opportunities compared to today. Even though I'm still labeled as an emerging artist, because I'm not famous, I'm also considered old, therefore, perhaps less relevant. But again, that is really different from whoever hears me out. Some people who had a strong start will chase the first feeling and try to recreate that by changing how they work or compensate with many new acquisition for their studio.
Enter the wisdom of mindfulness, as shared by Jon Kabat-Zinn. At its core, mindfulness encourages being fully present in the moment without judgment. Here's how artists can apply this approach to music production:
1. Letting Go of Preconceptions:
Approach each new track with an open mind, free from preconceived notions about what it should sound like. Allow the music to evolve naturally, embracing whatever direction it takes.
This means that when you start new ideas, you want to be less picky about how the session should start. Maybe one day you're interested in playing pads or another day, do quirky percussion loops. Don't corner yourself out in a modus operandi that work before and let yourself always try something new.
TIP: Divide your music sessions in 2 categories: one that is related to making music (finding new ideas, playing, jamming) and the other is purely technical. When these two overlap, the mind can have a difficult time being open to new ideas.
2. Non-Attachment to Outcomes:
Instead of fixating on the end result or seeking external validation, focus on the process of creation itself. This detachment from outcomes liberates creativity and encourages risk-taking.
Does this mean that sloppiness is tolerated?
What we're relating to is more towards how you manage your arrangements. It's also about not thinking of the end results and be open to whatever emerges.
TIP: I often say that I work to bring music close to 90% done and come back later with the option to completely revise it.
3. Embracing Imperfection:
Understand that flaws and imperfections are integral to the creative process. Accepting these imperfections fosters authenticity and prevents overpolishing that could strip away the track's soul.
When I'm close to the final stage of a song, I notice sometimes that my mind chases imperfections, wanting to cover them all. I find that leaving some deliberately leaves some human touch to it and I swear that years later, I don't even see them as mistakes but as part of the identity of the song itself. More than often, all the stuff I fixed end up being overkill.
TIP: Find a friend who can listen to your final idea and ask them to listen to it once, then provide feedback. If they didn't notice anything, you're safe.
4. Continuous Learning:
Just as a beginner is eager to learn and explore, maintain a stance of ongoing learning. Keep up with new techniques, sounds, and tools to infuse freshness into your creations.
As stated before, in my case, I search for tutorials every day and usually start new song out of trying a new technique. This is quite useful while creative.
In the realm of music production, the concept of beginner's luck is more than just a fleeting stroke of fortune. It's a mindset that, when embraced intentionally, can lead to enduring creativity and a distinct artistic identity. By applying the principles of mindfulness, artists can sustain the raw, unfiltered creativity that made their initial works so captivating. So, whether you're a seasoned producer or a newcomer, remember to embrace the beginner's mind—the gateway to music that resonates deeply with both creator and listener alike.
https://audioservices.studio/wp-content/uploads/2023/08/luck.jpeg
1080
1080
pheek
https://audioservices.studio/wp-content/uploads/2022/07/logo-menu.jpg
pheek
2023-08-29 18:18:16
2023-08-29 18:18:16
Beginner's Mind in Music Production