How To Prepare To Make Music
When I was 10 I was invited to be part of the track and field crew at my middle school. While I always considered myself a proficient runner, one thing that we started to do more was stretch. At first, it seemed like a huge waste of time, since all I wanted to do was run. Instead, we were spending all this time doing these exercises that, to me, had nothing to do with running. However, after months of stretching, I started to realize that I was getting significantly faster. This is because I was warming up. Just like you have to warm up to prepare for running, the same goes for music. In this post, we're going to discuss warm-up techniques that help you prepare to make music. 
Your Tools Aren't That Important
I've talked about this frequently in previous articles, but it deserves to be reiterated. In music production, clients often think that they can buy all the equipment they want, and somehow, miraculously, they will be inspired to create. However, more often than not, they get stuck and the most productive thing that happens is my client cleans the dust off their wall of useless gear. 
Just buying equipment doesn't do anything if you're not intimately familiar with it. Imagine buying a nice guitar and thinking you can play it right away despite not knowing how to play guitar. Sounds ridiculous, right? Of course, it does! It takes time to learn a new instrument. It takes frustration. It takes commitment. However, sometimes they do know how to use this gear, and still, nothing happens. More often than not, their problem is they don't know how to prepare to make music. And just like I was warming up for track and field, so must a producer. 
Come Up With Your Own System When Preparing To Make Music
Now people think there is a uniform way to prepare, however, everyone is different. The mind is not a quadricep, where there are standardized stretches that make it more functional. So what we do in coaching is to come up with a system that works for them. I start with figuring out what their current habits are because one thing we do know is that what they have been doing isn't working. 
So once we figure out what they have been doing it's time to figure out a system that works for them. Like I said earlier, everyone is different, so everything I'm about to make is a suggestion, not a catch-all. 
Actively Listen To Music To Prepare To Make Music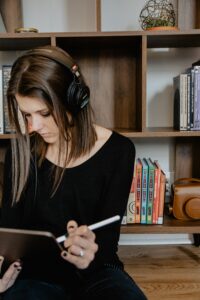 The first thing producers can do is listen to music before they make it. This might be a huge "duh" statement, but how many people actively listen to music? How many people come home, crack a beer, put on a record, and then just sit there, doing nothing else, except engaging with the music? 10%, maybe? However, it's this 10% of people who have set themselves up for success if they are music writers themselves.
When listening to music actively, it's best to think of it as a reference track, in a way. Listen to the song over and over again. Note the timbre and structure of the song. Like actually note it in a notebook. This will get your mind prepared to make music by actively engaging it.

When actively listening to music, make sure to concentrate on the appropriate parts of a song. Lots of producers obsess over the kicks, hi-hats, and the bass, but at the end of the day, it's the melody that people remember. So do yourself a favor and try to concrete things that you can easily absorb. You will probably not remember the exact timbre of a hi-hat, but you might remember the melody enough to replicate something similar later.
Listening To A DJ Set Will Help You Prepare To Make Music
Many students tell me that they find inspiration while they are in the club, and can't get home quick enough in order to harness it. A solution? Listen to a DJ set for 20 minutes to an hour. The longer you prepare the better.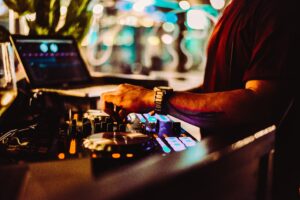 You can take notes on the transitions and compositional intricacies, something that you couldn't do while in a club. While not exactly the same as a club, I often find that my students say that all the ideas they had in the club start manifesting themselves again.
One thing I like to do is put on a mix while scrolling through and listening back to the samples on my hard drive. By doing so, you can hear when a sample fits nicely into the mix, which you can categorize, and use later. Just make sure the volume levels match what you're doing in Ableton. You want your samples to vaguely fit inside the mix, rather than being the predominant sound. This is a helpful way of managing samples as well, because otherwise when you're just scrolling through samples, and not comparing it to music, you're just comparing the samples to air.

DJing To Help Prepare To Make Music

I think DJing is a great way to prepare to make music. Similar to the other suggestions, DJing is a powerful form of active listening. DJing trains your ears to deeply understand the structure and mix of a song. You can easily add or subtract frequencies to see how they modify the song. You can also hear where transitions happen, allowing you to build your tracks out to be more DJ-friendly (if that is one of your goals). 
Build Categorized Playlists To Help Prepare To Make Music
I know earlier I said that it's easier to concentrate on the melody of the song, rather than the rhythm of it. So what are you supposed to do when you want to work on a specific aspect of a song? Well, as you're listening, throw the songs into playlists that are labeled based on the aspects of the song that are inspiring. So have one for the melody, have one for that really specific hi-hat or kick. Have one for a bassline. Then when you want to prepare to make music, you can go back to those playlists and warm-up actively listening to those.
Take Inspiration From Your Inspiration's Inspirations
Another way to prepare to make music is to learn from the people who inspire your inspiration. For instance, I'm inspired by Ricardo Villalobos, so I often read articles about him. Through these articles, I found out that he's inspired by pianist Keith Jarrett. Jarrett does not make electronic music, however, he's clearly had a large influence on the genre, whether he knows it or not. So, naturally, I listen to Jarrett to see if I can't harness some of that inspiration.
There Are Many Ways To Prepare Your Brain
At the end of the day, the goal is to get your brain engaged. You can play video games while listening to music, read a book, or go for a run. You can also paint, or write. These are all just suggestions and you should find the one that gets your mind warmed up, since as I stated at the beginning of the article, a mind is not a leg – there is no uniformity.
https://audioservices.studio/wp-content/uploads/2021/12/prep-music-1.jpg
1182
1410
pheek
https://audioservices.studio/wp-content/uploads/2022/07/logo-menu.jpg
pheek
2021-12-27 17:56:53
2023-01-20 15:34:02
How To Prepare To Make Music