I'm really excited to share a killer new exercise with you that I know will help you become really creative and productive. I'm using this exercise in my own productions and it's a little like the Bonsai Method I wrote about in my last post. The key focus of this exercise is to duplicate your output in different ways with big benefits. Let's call it Two birds one stone, and trust me, the takeaway from this exercise is huge.
This technique will improve your productivity in the studio, aid you in finishing more music, train your ears to produce better music, and creating tracks DJ's will find easier to play and mix. 
When people ask me to listen to their tracks and provide feedback, most of the time I feel there is enough material in one track to make two entirely different songs.Why do I feel this way? DJ's often prefer to mix tracks that are often stripped back, and have less sounds going on. They do so in order to blend one track with a complimentary one to make something new, and create an original mix. For your tracks to please the DJ consider producing songs that are less busy, and have less sounds going on. Doing this will give the sounds you do have more room to breathe, flex, and develop dynamically. These tracks that follow this production style allow the DJ to creatively mix and eq their tracks in very creative ways.
The objective in this exercise is to take whatever song you have and find a way to separate the elements in order to make 2 different songs out of the original idea.
When producing music, think of your track as a tool, and less of a song to be played on it's own from start to finish. To some degree, let it be incomplete, and be created as part of an equation that will sum up to something out of your control. As a creator of music, it might be difficult to conceive but I believe that letting tracks be something someone else can mould and play with will attract the right person who can do the most with that track.
Related: How to create tracky music blog post.
Another interesting element in spreading your ideas across two tracks is that in doing so you'll create a sister, or b-side for the initial track (hence the two birds one stone reference). When you are playing these tracks live you'll know and hear they're meant to work together well, hand in hand.
Now let's get to business and see how to do so.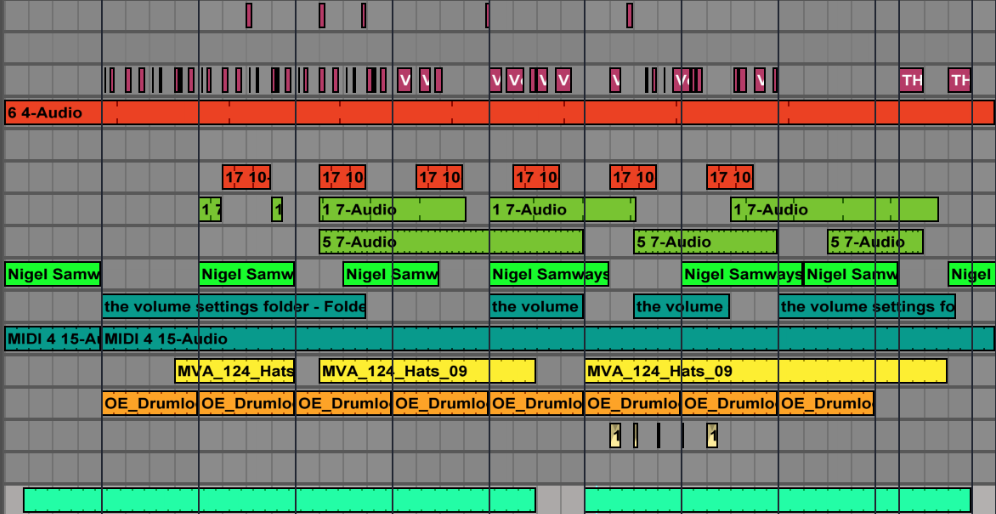 Select a track that you want to use for this exercise. It could be a track that you feel a little lost on, or some long forgotten project that was never finished.

Session view in Ableton

Bring all your sounds to the session view. (This will make it easier to see what's going on).

Mute all percussions that are not related to the main idea of the song. Although, sometimes a conga or snare could be part of the hook, if so try to mute it and see how much of the main idea is affected.
Organize your sounds in 2 groups. There's no good or bad way to select the sounds, but by splitting the group you'll see some sounds are complementary to the other. Sometimes, certain sounds are calling, and some are answering to the other, and for those, you want to separate in two different groups.
Activate the crossfader option so you can see/hear the A/B.
Assign your sounds to either A or B on the crossfader. Don't assign any of the percussions on the crossfader.
Do a "Save as…" to create a sibling to this project.
After you've gone through the previous steps you should be able to play with the crossfader and hear how well the sounds blend together. Hearing things in the middle of the crossfader will give you an idea of what a DJ will hear if he/she merges both ideas.

Let's go back to your new project. Since you already have the percussion from the original track, you can use the sprouting technique to create complementary beats. Once you have main idea, you may then mute or delete the original percussions and you'll have your second track's main idea.
In both cases you'll need to play with compression and perhaps add a bit more material to get your track moving along. But now, the great thing is, you have created two totally new tracks from one that might have been sleeping in your HD. It's a killer two track combo ready to go. Win-win.
I hope this post will get you into the habit of creating tracks that avoid the busyness that often robs  a track from reaching it's fullest potential. It's natural to come to a point where your track has too many ideas going on and will begin to lack direction, which is the perfect time to use this technique.
The two birds one stone technique will improve your productivity in the studio, aid you in finishing more music, train your ears to produce better music, and creating tracks DJ's will find easier to play and mix. 
As always let me know if you have any suggestions or questions about this post and leave a comment below and tell me what projects you've been working on.
JP
SEE ALSO : Pheek Talk 3: Productivity Tips