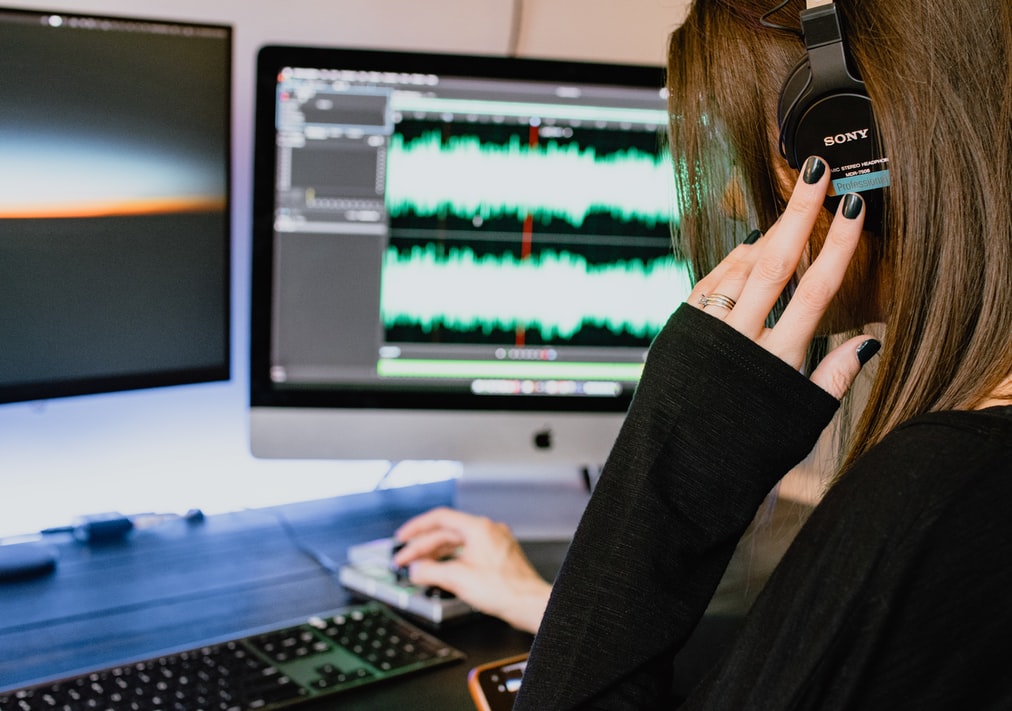 Not everyone has access to a treated studio, with perfectly placed acoustic padding, bass traps, and calibrated studio monitors whose balance is perfected by professional metering. Many aspiring producers have aspects of this, but ultimately will fall short when it comes to setting up everything perfect, since a well tuned studio is something that professionals charge a lot of money to do correctly. 
Therefore, a lot of my students ask me what they can do instead, since many don't have thousands of dollars in order to tune their room. The answer is simple – mix in headphones. But should you mix with headphones? There is a lot of chatter online saying that if you mix in headphones, you will screw up the mix, since it's not an accurate representation of sound in space. They'll say in a true stereo field, your left and right ears hear both channels, not each in mono. And while this is true, there are plenty of artists, myself included, who do a lot of mixing on headphones, and their productions turn out fine.
A Good Mix In Headphones Starts With Quality Headphones

My first piece of advice is that you need a really good pair of headphones, and you need to get used to them. I'd recommend Sennheiser HD650 on the high end, and for the best budget mixing headphones, I'd recommend Sennheiser HD350BT which are also bluetooth.
Once you get these, or equivalent, don't start mixing right away, since you have no idea what these headphones truly sound like. Instead, choose 10 or so songs that you really respect, buy the lossless version of them, and listen to them intimately through the headphones. Learn how the kick sits in the mix. Learn how the different layers sidechain when said kick is introduced. How bright are the hi hats? How crisp is the lead? After listening to this set of songs over and over again for a month or so, then you'll be ready to give it a go on your own stuff. 
Mixing In Headphones Is Like Cooking Authentic Food
Another good tip is to choose songs that have a particularly excellent element. I liken this a lot to eating authentic food. Whenever I visit a new country, I make sure to ask the locals what location has the truest food, and what elements of that food really define the regional cuisine. 
With music, I take a similar approach. For instance, when I started mixing a lot of Romanian techno, it became apparent that the aspect that producers craved the most was the kick. Therefore, if you want an example of a really pretentious kick, a good place to start would be with Romanian techno. It's like with a food like Mexico's mole. If you wanted to replicate the best mole, you'd use Oaxacan mole as your reference.
Mix In Headphones At Multiple Volumes
Listen to your mixes at multiple volumes to get a good idea of how it truly fits in the mix. Different levels will expose what's wrong in the mix pretty accurately. While it may sound good at high intensity, when you listen to it at a low intensity, you may notice that it doesn't quite fit. In my experience, it's the low volumes that reveal the most, so if it sounds good, low, and just ok, high, then chances are that the lower volume is the correct one.
Best Headphone Mixing Software
The best mixing with headphones plugin has to be Mastering The Mix's REFERENCE.

Ever felt that your mix was not quite comparable to your reference mixes? 
In order to keep you closer than ever to the sound of your favorite music, Mastering The Mix created REFERENCE. It's packed with powerful features and insights that allow you to get closer to your reference than ever before.
With REFERENCE you can:
Compare your master with up to twelve reference tracks, and creating several loops will allow you to quickly compare various sections of your track with a reference track.

Match the loudness of your track and the references instantaneously and accurately. This will enable you to make more informed decisions about shaping your sound.

Make matching the true peak, loudness, EQ balance, punch, and stereo width of a reference track smoother than ever. 

Adds a source plugin called REFSEND to make loudness-matched A/B comparisons.
If you want to emulate stereo crossfeed like you'd get on loud speakers, you can also use a VST such as Goodhertz's CanOpener, which simulates the stereo bleed you would get with loudspeakers. I've personally never used a crossfeed emulator, but they do exist.
Stereo Is Different In A Headphone Mix
The biggest hurdle to overcome when mixing on headphones is that the stereo field is mono in each can. Especially in electronic music, we tend to have extreme pans, which in headphones can prevent that natural left/right bleed that you get when you listen to a song with both ears from monitors.
To fix this, you can simply tweak left/right panned instrument settings a little but don't overdo it because this will compromise the loudspeaker performance. Keep in mind that stereo, when heard through loudspeakers, will have a noticeably narrower image than when listened to on headphones.
Another trick is to add just a tiny bit of reverb to up-front exposed sounds (5-10% wet). This allows them to glue themselves together like they would in a natural room.
Judging Low End With Headphone Mixes
Having an idea where the bass sits in the mix is difficult unless you have some serious subs. However, we live in the 21st Century, where Subpacs are a thing. If you're not familiar with Subpacs, they are essentially wearable subwoofers, where they use your body as a bass transducer. Therefore, they produce all the sensation and feeling of low end, without any of the decibels required to pump it out. Therefore, with a solid set of headphones, and a Subpac, you can get a full frequency experience, and accurately judge where the bass sits in the mix. 
I often prefer using a Subpac to even using a good set of subs, because unless you are in a place where your mixing isn't going to disturb anyone, having club ready loudspeakers that allow you to feel the bass is usually intenible in most environments. It's also a faction of the cost.
A Mix In Headphones Reveals The Small Details
The best aspect of mixing in headphones is their precision. Even with a well tuned room, and professional grade monitors, you often miss many of the finer details of a mix, such as hisses, artifacts, unwanted distortion, and clicks/pops. With headphones, these become abundantly clear, allowing you to surgically correct these issues.
On the flip side of this, it allows you to add small details that you wouldn't otherwise be able to. Let's say you want that synth to have just a touch of white noise to give it a warmer feel, a mix in headphones allow you to do that with immense clarity.
As you can see, there are many advantages to mixing on headphones. However, nothing truly beats a professional mix. Therefore, if you want it done right, consider going through me. I've mixed thousands of songs, all for a very reasonable rate. Your music will last forever, so you may as well have it sound as good as it possibly can, at an affordable price.


Links may contain affiliate offers.
https://audioservices.studio/wp-content/uploads/2021/03/mix-in-headphones-4.jpg
711
1012
pheek
https://audioservices.studio/wp-content/uploads/2022/07/logo-menu.jpg
pheek
2021-03-08 10:19:28
2021-06-09 13:00:18
How To Mix In Headphones