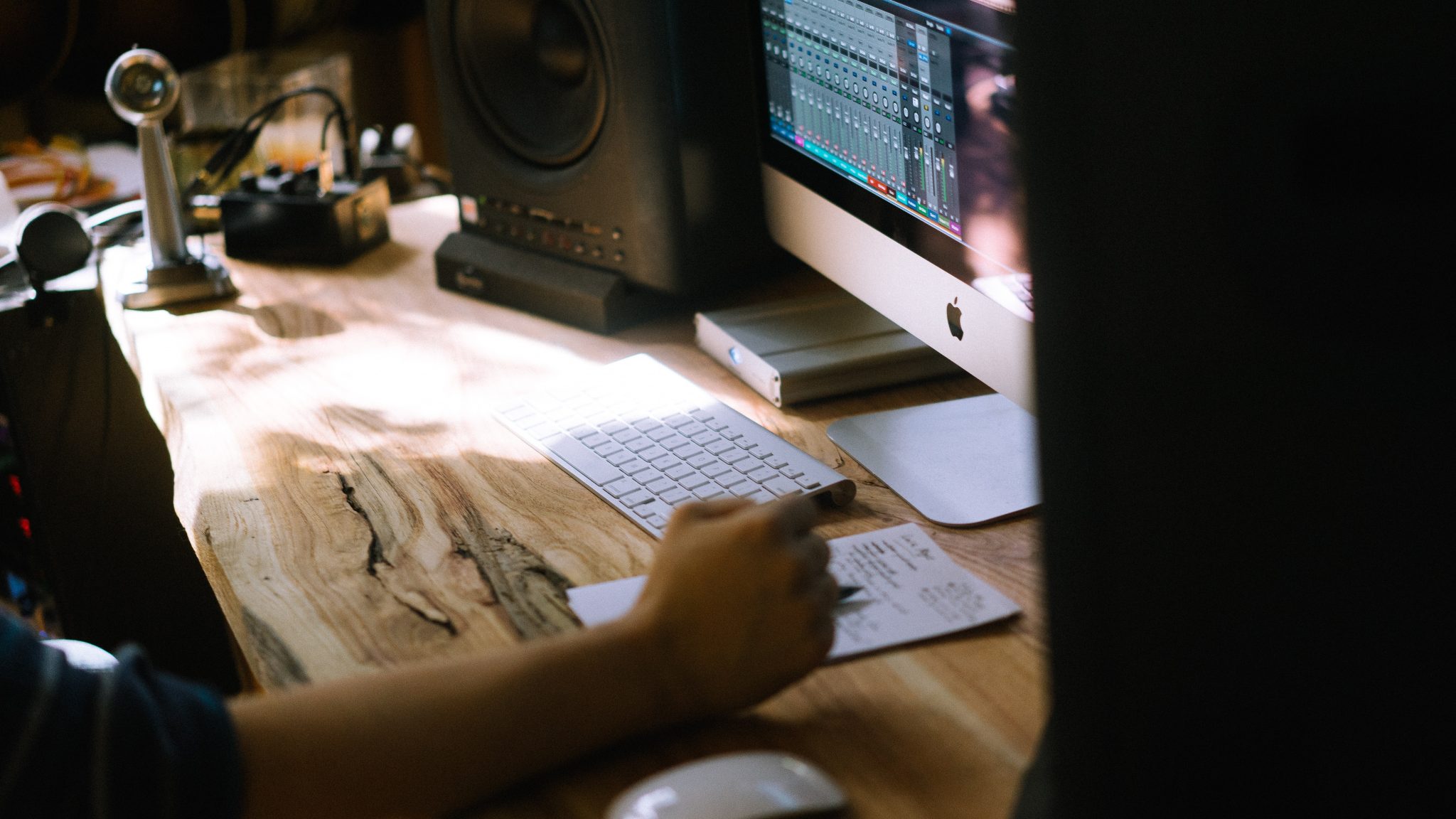 Mixing projects with many tracks or sounds
If you are familiar with my music, you know I love things complex and busy. Many people in our online community share songs they are currently working on that have a lot of content in them, so I thought it would be practical for me to share what I've learned about mixing too many tracks at once.
The pros and cons of using a large number of different sounds in a song
Pros
The song becomes exciting to listen to.
For listeners, there's always something new to discover on each listen—this is good for replay value.
A song can develop complex call-and-response story-lines. After multiple listens, a listener might notice that certain sounds are "talking" to one another.
A song becomes very colorful—covering many frequencies of the spectrum in a single track can feel like a rainbow to the ears.
Movement—using multiple sounds can be a cool way to create the impression that many things are moving at once.
Stereo effects—if you like action and panning, playing with the panning of many sounds can be fun.
Cons
The song can feel overwhelming. Work by someone who is not familiar with producing with many sounds can feel irritating and hard to connect with if the brain of the listener doesn't know what to focus on.
Complex tracks are harder to DJ. If there's a lot going on in a track, it can be hard for a DJ to find other appropriate songs to mix it with.
Complex songs can feel confusing. If a sound isn't well mixed, it can be confusing on certain sound systems.
Phasing issues—if you're not careful, some sounds can technically disappear in mono, and on some sound systems, this effect can be weird.
The timelessness of the piece suffers—if you're overdoing it, it might be difficult for people to get emotionally attached to the track and it will not age well.
Losing the hook in the mix—it's super important to have your hook be very clearly discernible in a jungle of sounds.
Despite these cons, it can be quite fun to use a lot of sounds in your work; most of the risks come from technical challenges in mixing too many tracks or sounds at once.
Sometimes people crowd a track with tons of different sounds because they've spent too much time on it and they're afraid people will get bored.
Mixing multiple sounds requires the producer to approach the mixing process in a few different phases. Let's say you're happy with the arrangements in the track—you can then move on to the next step(s).
Should you mix while working on your arrangements simultaneously?
Yes and no. When I'm arranging, I make sure the levels are OK but I won't deploy an armada of plugins to polish the mix yet because it drains CPU and also because some unfinished arrangement details might completely change the mix itself; I would have to re-polish afterwards.
One of the first things I do when I get to mixing is to question if all of the sounds I've included in the project are essential to the narrative of the song or not. You can start by listening to the song and perhaps cross-checking with a reference.
How does one know if a sound is essential? Try removing it. Sometimes, having fewer sounds in a mix can be beneficial to other sounds so they can be heard properly. If you are in love with certain sounds, you can save them for the next track you're working on if you don't think they work in your current mix.
Establishing a hook
What's your hook? Is it the bass? Or is it a 2-bar melodic sequence? Are the rest of your sounds either decorative, percussive, or supporting your hook? What's the purpose of those additional sounds? People will remember the hook when listening to your song—the other sounds can be described as "decorative". While some producers are really against using too many decorative sounds in a song, there are no rules to making the music you like and I encourage you to say to anyone telling you "you're doing it wrong" to just mind their own business. If you like lots of sounds like I do, that's all that matters, really.
In the late 90s, there was a huge interest in minimalist techno. One of the approaches that artists like Hawtin were obsessed with back then was trying to use as few sounds as possible in a track and still getting their message across. [Hawtin] would come up with an idea and surround it with only the bare-minimum; his idea was that a track was a part of a bigger picture that included assembling it with other tracks.
Mixing with groups
Mixing with groups can be done in many different ways, but to use groups effectively it's essential that you have a good understanding of the nature of each sound in your project. For instance, I usually have a big group named "Percussion" which will have its own sub-groups. The sub-groups can be different themes on that main group:
Same "family". All "metal" samples could be grouped together, wooded ones, synth, tonal, atonal, etc. Having a group for each family of sounds is excellent for EQing similar resonances these sounds might all have.
Same length. All short samples could be grouped together, all long ones, etc. This is useful if you want to use compression and control the groove.
By stereo position. All sounds in mono could be grouped together, sides on another. All high, forefront, or far-back sounds could be assigned to different groups. Grouping by position is useful for controlling a portion of the stereo field's positioning and volume all at once.
Other sub-group types. You can come up with your own sub-groups based on what seems the best for your particular track. The idea of a group and sub-group is to control something common to all its members.
Leveling many sounds
Attaining proper volumes for each sound is critical for a mix with a lot going on. If you're using Ableton, I suggest you switch to the session view to be able to see the meter of each channel. Just by eye, try to start by making sure that they're all roughly even. After they're even, lower some 20% lower, others 50%, and some very, very low. Which sounds you lower will depend on what sounds you want to be "decorative" and what sounds you think are a part of your main hook. One of the most common mistakes I hear in complex mixes with many tracks is that the producer is concerned that all of the sounds won't be heard, so they're all turned up too loud. The thing is, if you use a lot of sounds, it's better to have some that are way lower in the mix, and just like in percussion—we call them ghost notes.
Creating unity in a busy mix
How can you make sure all your sounds feel like they're a part of the same song? Sometimes when you use a lot of tracks and sounds, some might sound lost or it might feel as if two different songs are playing at once.
Grouping
Unity is something that groups can really help with. If your mix doesn't feel like one song, the first fix you can try is to apply reverb to each of your groups. You can either use a AUX/Send bus, or apply different reverb per-group. I usually keep it at a low 10% wet only, but you can exaggerate too. Similarly, if you EQ a group, you modify the signal of each sound, and this usually helps blend all the sounds from the group together. I put an EQ on a group by default and then will do at least one cut where there's a general resonance. Compression works magic on groups too—especially a vari-mu type of compression with a pretty aggressive setting; this will feel like adding butter to the whole thing.
Gating
There are multiple ways to use gating, but I like the simple gate from Ableton that has an envelope and an incoming side-chain. If you gate an entire group to one of the main percussion elements of your song—such as the regular clap for instance—it can provide a lot of room to other sounds and have them not be in conflict.
Side-chaining
Like I said, compression is great to bring all the sounds together and a bit of subtle side-chain is also really practical. I like to side-chain some decorative percussion to the main hats, so I make sure they peak through. The best option here is to use Trackspacer as side-chain because it will only use frequency of the incoming signal instead of the amplitude. So for instance, if you use it to side-chain hi-hats from a clap, only the conflicting frequencies of the clap will be removed from the hats.
Modulation
One of the riskiest things a producer can do when mixing many tracks or sounds is the use of stereo modulation such as auto-pan, chorus, phasing, or flanger. These effects make sounds move, and if multiple sounds are moving at once, then you're going to face phasing issues. I always use these modulation effects on specific sounds in each song, but the sounds that are modulated are treated as "main" sounds. This means you have to give them a lot of room in the mix otherwise they'll get lost.
Finalizing the mix
Finishing a busy mix is where most people get confused and many fail. The main percussion and other main elements of your song should be mixed first as-is. Then, all elements that are decorative should be mixed in, as a second layer like a "cloud" that completes it all—you're bringing the main sounds and decorative sounds together. Usually, in the end—thanks to Live 10's multiple groups feature—I end up having only two faders to mix with. You'll need to compress them both with a gain reduction of about -3dB to create the impression they merge well together.
But before you get to your final mix, it's important to get all your sounds right, group them, and control them all first. The final blending of these two major layers at the e nd will be pretty easy if you can get your levels together.
SEE ALSO : Creating organic sounding music with mixing
https://audioservices.studio/wp-content/uploads/2019/08/andrew-welch-6mOXg-RDd8s-unsplash.jpg
1152
2048
pheek
https://audioservices.studio/wp-content/uploads/2022/07/logo-menu.jpg
pheek
2019-08-15 10:42:39
2019-08-15 17:52:53
Mixing projects with many tracks or sounds