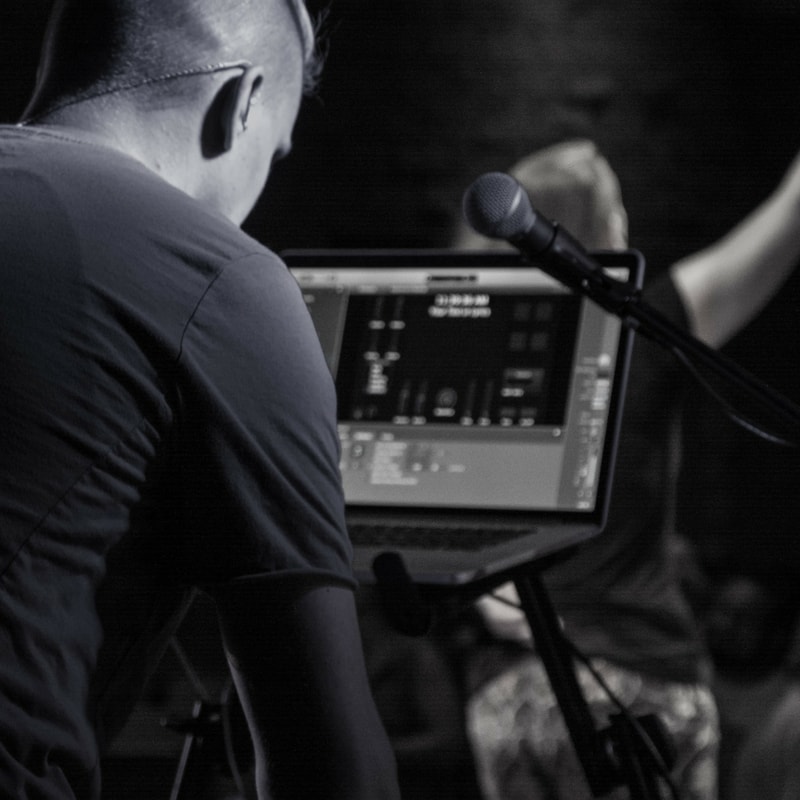 Playing Electronic Music Live – How to Prepare Your Live Set (Part 1)
Playing electronic music live is a huge topic and I could dedicate an entire blog to it; this is the first in a series of posts outlining some advice to help electronic and computer-based musicians perform a live set. My goal here is to cover everything you need to know to perform live.
Prior to writing this post, I talked with MUTEK Festival's director Alain Mongeau about how the festival has been sticking to prioritize live acts. I asked him if live acts were still popular compared to when the festival's debut in 2000. He said that while it is an important thing for them to promote live expression of music, there's still confusion on what it really implies.
Firstly, we need to answer the essential question which has been debated for years:
What is a "live set" and why would you do it?
I'm not going to explain this in a ton of detail, but let's clarify one thing, no one person has the right to say what a "correct" live set is. You should have your personal opinion about what a "live set" means in electronic music, which will then in turn be the foundation of your own approach to creating a live set.
Before I offer any answers to this question, let me share my personal interpretation of the phrase "live set" which has defined my own sets since the very first one I performed in 1999.
To me, a live set of electronic or computer-based music:
implies playing your own music.
is not playing songs as is. Nothing pre-recorded unless live tweaking is involved.
involves some improvisation; experiments and an element of risk taking.
means that there are some possible interactions with the audience; therefore the timeline of songs played shouldn't be planned in advance (like they often are in a DJ set).
should be unique every time you play it. But I understand this is difficult and/or not important to everyone.
While I've always felt that these should be the basic "rules" of live sets, I've come across so many well-established artists who don't follow any of these points and would argue that "live sets" are something different. Like I said previously, it's not up to me to decide how "live sets" should be. Picture your own interpretation of a good "live set" so you can build your session accordingly.
This series of posts will address certain ways to prepare a live set in Ableton Live, mainly from my own perspective but I will also cover other points.
Why do you want to play live? This is an equally important factor to consider. I feel that live sets in electronic music are very important and meaningful to both the artist and the audience. It's a rare moment for an artist to share, connect, explore and be creative with a lot of other people. I don't believe it approaching live sets lightly unless, well, you're music is light-hearted perhaps! But even then, I still think devoting time and love to your set can do great things.
Live set preparations
I'd like to cover three main types of live sets to start to help you decide on a direction you want to take for your own sets.
Live Set Type #1 – Playing close reproductions of your own tracks
This type of set is what I've been doing most when I play live, but I really make sure that no matter how I've prepared my set, it has room for improvisation. I remember a tour where I had one person see/hear my set three nights in a row and told me years later that each night was pretty different, and each felt like a different trip – that really made me happy!
The logic of this set type: You have songs that are done or halfway done and divide them into scenes and groups in Ableton (note: the new version of Ableton gives this approach crazy potential). I do not like the idea of an artist simply playing one scene at a time, one after the other until he/she gets to the end. I find there are no risks taken here but understand some genres are limited to this approach.
How much of a base should I use? I would say that an average song should have about 3 to 10 scenes and groups, and audio channels are more effective if you limit yourself to 6 to 12. Think of CPU too as you don't want it to stutter in the middle of your set. A MIDI controller is often limited to 8 faders so if you have more channels, it gets a bit complicated, but more complex arrangements are still doable.
Live Set Type #2 – Playing mainly improvisations with little-to-no preparation
In the early years of my live sets, this was how I approached live sets, but I came back to the first method as I find that for me type #1 is the most fulfilling. This method however, will definitely result in completely new versions of your music each time you play.
The logic of this set type: In my early live sets (circa 1998-2002), I would prepare the core of each important moment of the set at home; I would treat these moments like songs. I would know what the melody would be, a bit of the drum sequence, effects, etc. In those days I'd have analog gear alone, and I would save the melody in the piece of hardware I was using. The narrative of the set would be that I'd go from one song to another, in no precise order, sort of similarly to how you can now do this in Ableton Live. You can keep it simple and go from one scene to another in no particular order, which also opens doors to improvise or add new ideas on the fly. I call this approach the elastic live set.
How much of a base should I use?  In Ableton, contrasting to the approach I outlined in type #1, using this type (#2) I have only one scene but have 12-15 channels. In a live set of this type, I jam around one scene using the clips I already have saved, going from one scene to another in no particular order. In the past I would need to make sure all my hardware would be on the appropriate settings.

Live Set Type #3 – Playing with analog gear or hybrid with A laptop
This type of live set is fun and looks good on stage but is also very tricky, mostly because of the sync problems you might have between gear and the laptop. But if you make it work, it can be pretty damn epic.
The logic of this set type: There's no formula here, as uses either of the type #1 or type #2 approaches, simply complemented by a piece of gear such as a synth, drum machine or modular stuff. You can use the computer for sequences or as a potential helper to handle things you can't do alone. Bitwig is actually really really powerful if you are using modular because of the way it's built. I'd consider running Ableton Live and Bitwig, sync with Link. I find Bitwig to be a bit more tight on the sync and Ableton to be more easy on playing sequences.
How much of a base should I use? The mistake you might run into with this type of live set is wanting to do too much, to cover too many aspects of your music and potentially to never be able to do it all in live set. I find that the less you have to do in terms of sync'ing and parameter tinkering, the more focused you'll be, which means you follow the flow of your improvisations and music more easily.
Other Live Set questions you might want to address

Are you going for one representation of your music or do you plan to play it multiple times?
Does it matter to you if you can repeat the same set exactly or do you want it to be evolving?
These two questions can also influence what type of live set you decide to build and play.
Concluding thoughts on live set types
Think ahead; think about which direction your live set might go. For instance, if you want to play your own tracks, think of which ones you'd want to use, and try to have them all in a folder (use the "collect all and save" from Ableton to make sure you have everything on hand ready to go). As for the improvisation and hybrid sets, think about what kind of setup you might want and feel comfortable with. And lastly, the audience you are performing in front of is important. You should never play the same set in a club as you would at an outdoor festival.
Stay tuned for part two of this series of posts on playing electronic music live.
SEE ALSO : Playing Electronic Music Live – How to Prepare Your Live Set (Part 2) 
https://audioservices.studio/wp-content/uploads/2018/01/livept1-min.jpg
800
800
pheek
https://audioservices.studio/wp-content/uploads/2022/07/logo-menu.jpg
pheek
2018-02-10 12:24:46
2018-03-13 19:29:43
Playing Electronic Music Live – How to Prepare Your Live Set (Part 1)