Lessons I Learnt From Hosting A Music Producer's Retreat
I don't know about you but when you're passionate about music, it's both a blessing and a curse. In one way, it occupies a lot of space mentally and can become a bit obsessive, while it also creates this need to connect with others about it (so you know you're not crazy). If I look at how things are at the moment, to connect and meet other musicians in the real world, we face limitations on where you can come across them. Perhaps you can meet them in a café, or a record store, but it's not a sure thing. Realistically speaking, you'll depend on clubs and festivals to have most music-oriented discussions.
But let's be real here, the options are limited. Raves and clubs are fun but they're also recess time where having a chat might be distorted by the loud music, noisy atmosphere, and perhaps distorted by mind-altering substances.
There was a time where I had the chance to have access to a rich community in Montreal, way before social media, where we would hang out after events (not after-parties) to make a meal and talk. We would do studio sessions, collaborate, and share tips. Nowadays, it's still possible and while social media can give you access to anyone, it won't assure you that you'll be able to connect properly afterwards.
The idea of making retreats came to a friend named Fred and I, years ago, where we wanted to leave the city with friends and do a weekend of intense music immersion. We did 2 events and they were successful. We had to stop because of the pandemic but since I moved to the countryside, it became clear to me that I had to continue doing them, but in my home. The idea was to give access to my house, have people stay for a weekend, give workshops, share, discover friends' music, and see where that leads us to.
I learned a lot in the last two retreats I did and I'd like to share some insights but also, some tips if you want to organize one with your friends.
Lesson I learnt #1: Being in the same place as other musicians for a moment opens up music options and leads you to be curious.
Why make a music producer's retreat?
There are multiple reasons why one would want to make one. The first is to escape your routine and immerse yourself in a connection with your music, allowing you to start projects and/or finish them. I would say that people who come to the retreat will mostly be motivated to be in a space where others work on music. It's not alien to say that if you're surrounded by other people making music, it gives you an inner boost to do the same.
Collaborating and discovering music are also other reasons to throw a retreat.
But whatever you choose to do, I remind participants that there is no right or wrong way to do it. There's also the option to not do much else than just being around people. However, if you use your time, it will have an impact later on.
Lesson I learnt #2: The reason why I do retreats is to connect with people who have the same intentions as I do, which is sharing passion.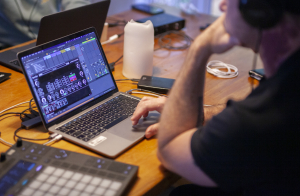 The Loneliness of the Musician
It's not new, but being alone in the studio is often a hard situation. There's something frustrating about discovering new ideas but having no one around to hear it or validate it. Modern electronic musicians often go towards that genre because they can be a one-man band as you can get to results quickly but this means that success, or failures, will also be lived alone. Having fellow friends and a community is important to go far in the long run as your network will introduce you to new ideas and opportunities, and spending time in a place over a weekend, sharing fun moments, food, and discussions is a great way to build a community.
Lesson I learnt #3: My writer's block and tendency to fall into a rabbit hole go away during a retreat.
Technical validation and diversity
Being around other musicians brings the opportunity to see how they work, what tools they use, and which plugins solve certain issues. It's also a moment where gear can be shared, and you can see how each person handles it, giving it a new perspective.
Ironically, in the last years, I've always seen some producers being very secretive to how they work and the gear they use. I find that silly.
No one is the beholder of new techniques and there is nothing done that isn't already known. Pretty much anything and everything is covered online, either in a blog, forum, or simply on YouTube. Holding on to how you work, in my opinion, reveals a good dose of anxiety and insecurity. There is this explanation that keeping secrets to keep your mysterious image is a thing, to which I say that it just takes a few audio engineers to reverse the knowledge. The only thing that no one can take away from you is your soul, your identity. Tools and techniques are simply there for that part of yourself to express itself. The more you open up to others, share what you know, and create dialogs, you'll be rewarded by meeting like-minded people who will consolidate what you know with ideas you didn't think about… because you were self-centered.
That said, people around me during a retreat are always a bit surprised and happy to find out that I have no secrets, and the only thing I want is to see others succeed. The teaching mindset goes beyond immediate success; I want to plant seeds in people's minds to see what will emerge later. There have been so many times when people that I have coached have come back to me later on with ideas that inspired me while I struggled with writer's block.
Lesson I learnt #4: Explaining concepts to others help me understand what I do.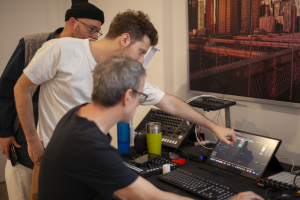 The Impact on Creativity
One thing I noticed with people attending is how a sense of flow emerges by the last day. Flow is a mental state where people get into a zone where they create freely and where everything falls in place; where technical limitations seem to disappear and of course, lots of fun happens.
This flow state seems like the ideal way to create. While a continuous flow state may be too good to be true, if we can reach that state once in a while, it is, to me, one of the real goals of the retreat. Because once you experience that state and how you got there, you know you can bring back with you, this way of being as a musician.
Offering workshops is then a gentle push to unlock frustrations. I make sure these workshops are aligned with the technical level of the participants where I can offer tips on what they struggle with.
While we often search for big impacts to feel we have changed as an artist, I notice that the sum of many little tweaks provides more long-lasting results.
Lesson I learnt 5: Ironically, most of us make music to connect with others while we don't organize enough community related events. Once reunited, goals of finishing songs or other related validation tasks become more than secondary.
Where to organize a music producer's retreat
Any location could technically work to host a music producer's retreat, but I would stress the importance of it being at least 1 hour away from home and ideally, in the countryside. There are many benefits from being able to take a break, go outside for a walk, and step back from anything that is too human-influenced (roads, concrete, asphalt, buildings, etc). In my case, I'm in the countryside with lots of land where we can easily walk for an hour before you get to see most of it. It's like a big park, more or less, but wild and open. Sure, you can record sounds, but one of the important parts is to be able to breathe fresh air.
One option is to rent a cabin with friends. I would encourage you to have people who are in the same mindset as you. You can then have a space for music making and another for eating, and relaxing.
Space is important and having a place where you feel comfortable and inspired is crucial for the ambience.
Lesson I learnt 6: The ideal place is one you know. If you can find a place you've been and love, it will be successful.

Intention and commitment while at a music producer's retreat
It's easy to get this part wrong but it is probably the most important. One thing we clarify with this retreat is that it's not a space and time to party. This is something accessible in other ways and the retreat is a commitment to get things done. Therefore, we have this no alcohol policy as well as a curfew at a certain time. Not only did I have no resistance from attendees, but everyone was extremely happy we did this once the weekend was over.
At the opening of the weekend, we had a meal where we all discussed our needs, our goals, and things we would like to do. As everyone talked, I noticed that there was some shyness at first but as we had multiple talks over the meals, by the end of the weekend, people were more and more open to sharing insights, struggles, or exciting finds. We all have the same difficulties in the end, which is why if one opens up, others will relate and follow suit.
Lesson I learnt 7: Having a moderator, leader or experienced musician is the best way to face difficulty while also making sure you can hold space for intentions to remain real.

Unexpected wins
To finish this post, I have learned that working on a song over the weekend isn't the most ideal approach, I believe. I think there is much more to gain by trying to organize all your songs, macros, and presets and update all of those sleeping tunes in your backup drive. Being curious, trying new techniques, and facing some parts of music-making that are challenging are some of the best things to be in a context where you are supported.
Topics that were very useful and that participants enjoyed:
Techniques to start new songs and create unlimited hooks.
Sound design and reverse engineering ideas.
How to organize an idea into effective arrangements.
Mixing a song in 20 minutes.
Lesson I learnt 8: Always accept that there is something you might know enough or properly. Remaining open is a way to always grow.
Testimonials from Participants: Let's hear directly from those who've attended:
Marino: "I had an unforgettable weekend at Pheek's retreat. It was more than just music; I learned a lot of things, met wonderful people from different backgrounds, all of whom share the same passion as me – music. Pheek welcomed us with love and kindness in an amazing landscape, always there to help when we faced creative roadblocks. I recommend it to anyone wishing to develop their skills while leaving their comfort zone."
North Motion: "My experience was simply fantastic. I had the opportunity to meet many artists who, like me, are passionate about electronic music. Beyond the skills I learned, I formed great friendships. Pheek's retreat offers exceptional facilities in a breathtaking location, and J-P's knowledge and hospitality are unmatched. I give it a perfect 10/10."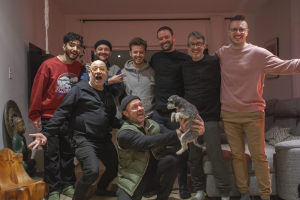 https://audioservices.studio/wp-content/uploads/2023/10/retreat.jpeg
1080
1080
pheek
https://audioservices.studio/wp-content/uploads/2022/07/logo-menu.jpg
pheek
2023-10-24 18:33:37
2023-11-08 17:18:55
Lessons I Learnt From Hosting A Music Producer's Retreat