Turning Efficiency Into Art With Ableton Templates
DOWNLOAD MY ABLETON TEMPLATES:
Production template here
Mixing template here.
Every musician, regardless of their experience level, has felt the excitement of sudden inspiration. It's an ethereal sensation, demanding immediate translation into audible reality. Yet, how often do we find ourselves navigating from scratch through our Digital Audio Workstation (DAW), struggling to set up the basics when all we want to do is create?
Here, the power of templates in DAWs like Ableton Live becomes apparent.
If you haven't started using templates, I would like to encourage you to do adopt them into your routine. At first, this might be difficult to master, but with some practice, this routine will pay off.
So, what's a template (if you aren't familiar)?
It is a project with or without material, that can be used as a starting point. Instead of starting with a new project, which would be 0% in a scale of work out of 100%, a template would be more like 10% or even 40% towards the completed piece of music. This may be confusing because 40% done usually means having a lot of material in a project. However, when everything is organized properly, you are way farther ahead than you imagine.
Creating an Ableton template
To create a template, all you have to do is open a project, go to the File Menu, and select "Save As Template."
This will allow you to have your finished project as a starting point to start new projects, vastly speeding up the process and giving you a consistent sound.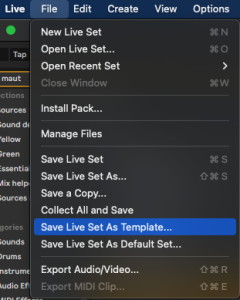 Two ways to organize an Ableton template:
Two ways I usually organize a template is to either create a project where I organize in advance everything I need like channels with plugins and settings already set to what I usually do, macros, return channels, and master bus ready. Once this is all prepared, I save it as a template.
The other way is to take a successful project, remove all clips, audio, and automation, and then save it as a template.
However, this isn't an exact science. It's also fun to save projects with automations and or other weird settings and save it as a template, as inspired by Matthew Herbert Manifesto.
Starting Fresh vs. Jump-Starting with Ableton Templates
There are pros and cons when staring fresh vs jump starting a project with template.
Many musicians will start fresh every time, perhaps because they don't know about the idea of using templates or perhaps because they just know that way. Starting fresh offers valuable practice, fostering familiarity with their DAW tools, and enabling a tailored approach to every project. However, there's a flip side: it's time-consuming.
Imagine being a painter and having to craft your brush every time you felt the urge to paint. While understanding your tools is essential, it's equally crucial to be ready when inspiration strikes.
The solution? Find a balance.
By all means, start fresh when the situation permits. But also arm yourself with templates to expedite the process when needed.
Template Idea: Create a project where you add multiple midi channels with each armed with your favourite synths. For each synth, hit cmd+G to turn it into a macro (Group) and map your favourite synth parameters to each knobs. This will ease hands-on control or hit randomize for some new inspiration.
TIP: I would encourage you to grab this selection of free modulators named Mod Squad 2. This has so many useful, essential tools to add to your template.
Ableton Templates: More Than Just a Shortcut
At first glance, a template might seem like just a preset, a way to save time. But there's no problem with presets and trust me, it is not cheating!
While templates are certainly is a time-saver, it's actually much more. Think of a template as a supporting musician friend, always ready to jam when you are. With templates, you can:
Create Macros: Setting up macros that you frequently use ensures you have immediate access to your preferred settings and controls.
Organize Routing: Advanced routing configurations, once set, can be easily replicated across projects.
Form Groups: Grouping tracks or instruments that often go together saves time and offers a clearer view of your project.
Pre-set Effects and Plugins: Having your go-to effects and plugins already loaded lets you dive straight into tweaking sounds.
Ableton Template Idea: Create your own mixing template by creating 5 groups that will host your project's channels. You can then drag and drop them in each groups. Those can have multiple plugins of your choice. You can even create a mixing template with multiple channel presets and then you can drag and drop them from your browser.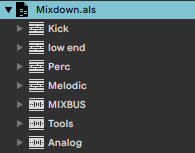 The Art of Crafting Abelton Templates
It's not just about having templates but about having effective templates. An ideal template should inspire creativity, not box it. Here's how:
Diverse Templates for Diverse Needs: Instead of a one-size-fits-all approach, consider multiple templates for various purposes: mixing, sound design, production, and perhaps a comprehensive one, like my "mothership" concept.
Incorporate Modulation Elements: Add pre-configured modulation tools that respond and interact with what you introduce. Tools like envelope followers or audio scrubbers, such as the ones Manifest Audio offers, can automatically detect and modulate sounds, adding depth and dynamics to your music.
Think Support, Not Supplant: A template should never feel like it's directing your music. Instead, it should feel like a base on which you can build. The best templates enhance creativity, not limit it.
When Ableton Templates Truly Shine
The true test of a template's efficacy is in its ability to enhance creativity. If using a template feels like you've brought an extra pair of hands into your studio, aiding and elevating your music, then you've hit the sweet spot. It's not about replacing the organic process of music creation but about having tools that streamline it.
In the world of digital music production, where the landscape is vast and the tools are many, templates emerge as a beacon of efficiency. They are not just about speeding up the process but about enhancing the very essence of creativity. They ensure that when inspiration strikes, you're not just ready but equipped to let your ideas soar. Embrace the power of templates, and watch as your music production process transforms from mere creation to pure artistry.
DOWNLOAD MY ABLETON TEMPLATES:
Production template here
Mixing template here.
https://audioservices.studio/wp-content/uploads/2023/10/templates.jpeg
1080
1080
pheek
https://audioservices.studio/wp-content/uploads/2022/07/logo-menu.jpg
pheek
2023-10-11 17:25:42
2023-11-21 17:37:29
Turning Efficiency Into Art With Ableton Templates