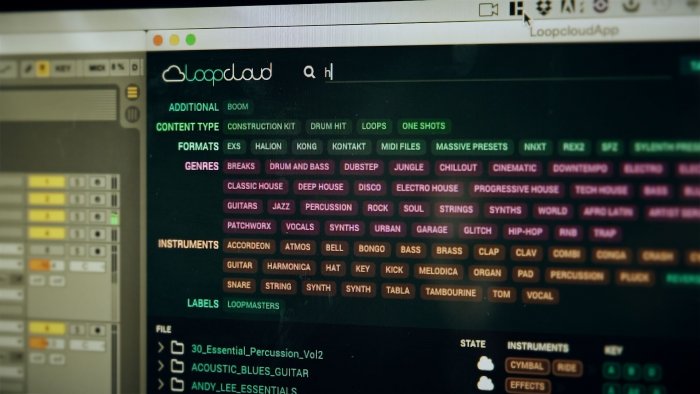 Making music in 1990 involved working with samplers, a very basic Atari computer running Cubase, and sampling sounds from tape cassettes here and there to make music. We'd also add synth lines over what we had, but we were really limited in what we could do. You have no idea how exhausting making a simple loop could be—it sometimes took a whole afternoon. Plus, we'd have to leave everything running to continue later without losing anything. If you fast forward 10 years, it was much easier, but to find samples you needed or that you couldn't make yourself, you'd buy samples on CDs or sample music you liked—it still wasn't super easy.
When I decided to start working with people on their music as a producer, there's one thing that became essential, which was the organization of my files: samples with tags so I could find them easily. When I work on a full album while working on 2-3 other projects for clients, if I'm not organized when I have a flash of inspiration, my flow will be lost.
Enter Loopcloud into my life, and I haven't been the same—no joke.
What's Loopcloud and How Does it Work?
First and foremost, Loopcloud is a desktop app that syncs with your DAW. It's also a sample organizer and online store for any samples you might be missing. So, the app contains your samples and the cloud's library—it's like a door to a library where you can find pretty much every single sound you need. The best way to use it is to open the Loopcloud VST in your DAW and then go on the app to browse for sounds you need. If you do that in a song you're working on, it will sync your BPM and then you can also tell it what key your song is in (if that applies). If you find loops that aren't in key, you can also force the app to tune it to the key of your song. Then you just simply drag the sample you found in Loopcloud and drop it directly in your DAW—it's pretty magical.
The Different Ways I Use Loopcloud
Finding a specific missing sound for a song. You can spend 30-40 minutes trying to do a drum roll properly, tweaking a synth to sound exactly like some deep house leads you like, etc. With Loopcloud, I sometimes find 2-3 samples that are similar to what I envision and layer them to create something new.
Exploring genres you usually shy away from. If you've been collecting and buying samples based on one genre, sometimes it's very interesting to venture off into other genres that you aren't familiar with and find sounds that are different from what you'd usually use. It's normal to be picky with sound-fetching, and you might not be interested in buying a full pack of a genre you might never use. Now you can get a single sample—a vocal or a weird world instrument—to create unusual soundscapes. Using organic sounding, acoustic percussion over your digital sounds can add a nice extra touch.
Test a sound in context. Since the Loopcloud's audio-out is rewired in your DAW, you can add effects on it to see, for instance, how a hook will sound once compressed or with a delay. Normally, it's hard to know exactly how the samples you're about to buy will fit in there, but with a Loopcloud channel, it opens up a lot of options. However, sounds are watermarked for piracy control so don't expect to record them from there!
Randomize ideas. With more randomized samples, you can try a lot of different things in your work that you'd normally not be looking for—with Loopcloud you can test them and see what happens. There's a great discovery aspect here that often makes me smile.
Testing multiple options in arrangements. Sometimes in a moment where you know something is missing, but you're not sure if this or that would be the thing that makes the difference, you can check out loops that might provide you with a better perspective of what you can do.
Use Loopcloud's sample editor to fine tune a loop. While there are a lot of loops in Loopcloud, you can rearrange sounds in the editor and also add some integrated effects to tweak the perfect sample. The multi-layer function allows you to have up to 8 loops playing. This is really an added value to your library, giving yourself a lot of options to tweak original material from, perhaps even very simple content.
Test one sample alone in a context. You can pick one sample and with Loopcloud's inner sequencer and create a pattern to hear how it would sound. This is pretty killer, as sometimes you're missing that one thing. This is, by far, way faster than Ableton's browser, so with all your samples you have along with those you don't have, there's absolutely no way to fail in finding good sounds. Perhaps, having too many sounds might become an issue!
If haven't read about it in this blog already, for 2020 I will be making one song per week as part of a personal challenge that I'm doing on WeeklyBeats, and it's been a life changing experience. Music is one of the central parts of my life, both my lifestyle and working life, but putting my own music first was a bit of a challenge because I've been dedicating a lot of my time to clients—but this has also paid off in many ways. The first benefit of taking a break from my own music was to review in detail how I start a new song.
Loopcloud is a very useful tool to be able to start new songs from scratch. Basically, how I work is that I need first a core groove to be able to jam new potential ideas. The groove can be generic or simple, but I need something different each time. To make something new and refreshing is difficult if I'm stuck with a certain set of sounds, synths, and habits. Having access to random banks of new grooves is mind-blowing because it's as easy as popping-open the app to see what today's flavor will be. Perhaps ethnic, world beats, with a funk background and house bass? I'm the only one responsible to make it work, and if I let my brain tell myself "no", then I know I'm missing out.
To start a track and to begin sketching, here's how Loopcloud can help:
Try a base BPM and key to the song. This can of course be changed, but if you can start with that, you can then also find samples to work with.
Think of a genre you want to work with. This is just to remove a lot of potential distraction. If you think of techno, this will eliminate a huge number of decisions you have to take.
Pick a sub-genre or influence. If you're a purist, this might be for you. I suggest picking a second genre to go fetch cross-genre sounds. Ex. Arabic melodies with house.
Decide on your rhythmic signature, such as 4/4 or breakbeats or anything else. Build a core loop to work with. Loopcloud also lets you pick one.
Collect a large group of sounds for your song. This should be, bass, main melody, supporting ideas, effects, stabs, transitional elements and background. I usually make sure I have 3-4 sounds for each of them, ideally in key to the song.
Is Working With Loopcloud Making Music Production "Easier" a Trap for Producers?
I don't think it is. I find that the more people making music, the more refreshing ideas get invented. This starts with making music increasingly accessible, which Loopcloud does. In the hands of experienced producers, tools give us more time to focus on important details and things we like the most. In my case, I noticed I gained a lot of speed in starting new ideas or tweaking my client's needs. I have more control and I also can share ideas with my clients before sending them a project so we're on the same page.
Does Having Access to so Many Sounds Limit Creativity?
No, quite the opposite. If I have more material to work with, I find there are fewer obstacles to creating richer songs. One of the things I explain to many new music producers is that working with quality samples trains your ear on how to pick quality material, which gives you top results. For instance, once you realize that best hi-hats often have a certain air in the highs, you'll combine the transients of certain hats you have with some others you found through your searches. You'll soon be able to create your own percussive combination of layers 3-4 sounds to get another very odd sound design. Same for melodies. But it's really hard to start learning sound design on your own if you're not familiar with what really works. Once you learn, you can then work to reverse-engineer the sounds that work best. But to do that, there's nothing like having access to a huge library, like what Loopcloud offers.
In the end, what music comes down to is only a few things: reproducing melodies/atmospheres/experiences you want, with the best flow possible. That requires experience, patience and the use of quality material.
Update: June 2021
Loopcloud recently released version 6 of the platform, which extends its sampling capabilities by incorporating artificial intelligence to match harmonic and rhythmic samples, similar sound matching, and enhanced search filters so that you can find a sample easier without having to do the dreaded "scroll and listen." In addition to their enhanced algorithm, Loopcloud 6 comes loaded with tons more samples to increase artistic expression.
Sound Matching
Whenever you select a sound, a list of adjacent loops will appear that should work well with the one you selected. This algorithm will also look through your sample collection and find sounds that will compliment them too. So, if you have a sound that you have been using as a signature, Loopcloud's updated algorithm will pump out a list of recommended sounds that may help expand that pallet, whether that is harmonically or rhythmically. This could be the spark that gets you to the next step in your game, while saving you a hell of a lot of time, all by working with Loopcloud.
More Advanced Search Filters
Perhaps you already have an idea of what you want in a sound, but are having a hard time building it from scratch. Loopcloud 6 has advanced their search filters in order to make working with Loopcloud and finding that particular sound more seamless. You can search for the tone, length, stereo, BPM, swing, rhythmic density, attack, and decay in order to track down that elusive tone in your head. You will probably not be able to find exactly what you need, but even if you find something adjacent, that can inspire a whole new universe of creative thought. 
Find Familiar Sounds
This feature does just as it says. If you have a sound that you like and click the "find similar sounds" button, Loopcloud 6 will populate a list of sounds that it thinks are similar to it. This makes working with Loopcloud a valuable tool for quickly cycling through sounds that may fit your timbral palette. 
Three New Effects
Working with Loopcloud just got more diverse, with its additions of compressor, Tonebox, and EQ effects. You can tweak the parameters of these effects or select a preset on any of the sounds to tailor your sound in unique ways before exporting it to your DAW.
Easier Sorting
If you want, Loopcloud's AI will combine your sounds into theme-friendly folders so they are easier to find.
Links may contain affiliate offers.
https://audioservices.studio/wp-content/uploads/2020/03/Loopcloud-screen-700x394-1.jpg
394
700
pheek
https://audioservices.studio/wp-content/uploads/2022/07/logo-menu.jpg
pheek
2020-03-02 18:57:33
2021-06-10 09:08:05
Working with Loopcloud